Safety Inspection for Important Architectural Cultural Heritage
By conducting regular inspections of important cultural properties, the risk of damage can be assessed and preventative safety measures implemented. Furthermore, in order to establish comprehensive and scientific preservation procedures, research and development of safety monitoring technology for cultural properties and management-manual development are under way.
Important Architectural Heritage Safety Assessment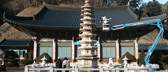 Measuring a crack
NRICH examines important architectural heritages protected by law on a regular basis, using various measuring devices, and takes measures to prevent damages.
Timeline and Current Status of the Cultural Resource Safety
Inspection Initiative Regularly-scheduled inspections of important cultural heritage began in 1981, with the preliminary inspection of 11 stone structures, such as the Five-story Stone Pagoda at Jeongnimsa Temple Site, Buyeo. The focus remained on stone structures until 1994 (11th annual inspection), which included tests to measure their vertical and horizontal inclinations. In 1995 (12th annual inspection), eight wooden buildings were added to the list of cultural properties inspected, which has steadily expanded since then to include a greater variety. Since 1997, depending on the condition of some seventeen cultural properties, including ten important stone cultural properties and seven important wooden structural cultural properties, safety inspections have been conducted with increasing frequency (i.e., every one, two or four years) and the methods of assessment diversified and improved.
Safety inspection of cultural properties in provinces and municipalities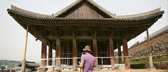 Safety inspection of cultural properties requested by cities and provinces
NRICH conducts safety inspections of important cultural properties at the request of the provincial or municipal authorities concerned, and submits the results of its inspection, monitoring or repair work to the authorities in charge.
Study on safety management of architectural heritages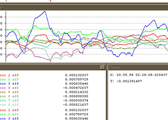 Data collected from automatic incline-measuring devices
Since the mid-1990s, NRICH has introduced cutting-edge instruments - such as vibration meters, electro-optical distance measuring instruments, crack measuring gauges, and ultrasonic explorers - to monitor and diagnose the safety of valuable architectural heritages and increase the quality of its safety inspections. The institute is also committed to conducting R&D aimed at improving the functions of the devices and ensuring more scientific and systematic safety management of valuable tangible heritages.
Current Status of State-of-the-art Safety Inspection Equipment
Classification
Content
Remarks
Basic Formation Stage
(2000 ~ 2004)

Goals

To construct a cultural heritage safety management system with the aim of prior prevention in view of the recent acceleration of damage to the nation's cultural heritages.
To contribute to preserving cultural heritage items in their original form by developing a scientific method of preserving cultural heritages using the most advanced system and by establishing systematic preservation measures.

Major Content

Acquisition of the most advanced equipment, and development of programs

Major Content

Development of ultrasonic CT equipment for the non-destructive inspection of wooden cultural heritages (2000~2001: development completed)

Projects by year

Development of ultrasonic CT equipment for the non-destructive inspection of wooden cultural heritages (2000~2001: development completed)
Basic programs for the safety diagnosis of wooden cultural heritages (2002~2003: development completed)
A radar system for the safety diagnosis of stone cultural heritages (2003~2004: development completed)

Application Stage
(2005 ~ 2008)

Goals

To accumulate data on the mechanical features of cultural heritages through experimental research.
To construct a permanent monitoring system for inspecting and managing the safety of cultural heritages.

Major Content

Research on the structural characteristics of wooden cultural heritages
Regular inspections of important cultural heritages
Construction of a long-term measurement system
Various legal and system measures related to safety inspections

Research on Comprehensive Application
(2009 ~ extended)

Goals

To integrate research on the prevention of disaster into existing research.
To establish a standard for evaluating the degree of risk of disaster; and to establish standard inspection techniques for diagnosing the state of cultural heritages and evaluating the time required for repair.
To establish a structural design standard and develop rational repair strengthening technologies based on the results of research on the structural safety and performance evaluation of cultural heritages.
To produce and operate a management manual for educational programs in order to prevent damage and disaster proactively.

Major Content

Study on the data analysis of important architectural heritage using automatic measurings system.
Study on the seismic capacity evaluation process of cultural heritage.
Experimental analysis study on the standard of structural stavility evaluation of architectural heritage.
Current Status of State-of-the-art Safety Inspection Equipment
Since the mid-1990s, scientific and high-tech instruments such as oscillometers and geodimeters, devices for measuring cracks, and ultrasonic exploratory equipment have been used during safety inspections to enhance precision, while research and development of various instruments has been prioritized.
만족도 조사
이 페이지의 정보와 사용편의성에 만족하시나요?