Survey of Traditional Buildings
Systematic studies are conducted on traditional buildings to record and classify information about their history and present conditions that can be used for their preservation. Major tasks include precise measurements of important wooden and stone structures and recording their results, on-site surveys of traditional buildings in North Korea, study of the styles and techniques of traditional buildings by using miniature models, and publication of reports on all these activities.
Wooden Building Research Study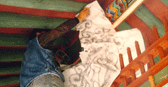 Making a wood rubbing
At the beginning of the project, research was directed toward temple structures; after the 1990s, the research focus shifted towards Confucian architectural cultural assets; from 1990 to 1995, research of state-designated memorial halls was carried out; and from 1996 to 2004, Confucian schools within the country were studied based on their location.
Publication of Research Data on the History of Korean Architecture
State of the Research Data on the History of Korean Architecture
Of the nation's state-designated cultural properties, 325 are wooden structures (i.e., 22 National Treasures, 120 Treasures, 143 Important Folklore Cultural Heritage, and 40 Historic Sites). These figures attest to the importance and prevalence of wooden structures in the nation's history, and are a comprehensive indicator of the culture of historical periods in Korea. After the generation of a research analysis report on historic and regional properties based on an investigation of historical records and documents, as well as detailed photography and comprehensive surveys of the ground plan and placement, arrangement, and construction techniques used for each structure, the Publication of Research Data on the History of Korean Architecture provides the academic material necessary for the establishment of a recognized Korean architectural culture, and, furthermore, will be useful as the basis for establishing systematic preservation policies.

The survey of wooden buildings, started in 1972, is focused primarily on Buddhist structures, which comprise most of the state-designated structural heritage. Thus, from 1989, a total of fifty-two structures were surveyed. Between 1990 and 1995, the focus of the research was on Confucian structures, and six state-designated Confucian schools were surveyed, while from 1996 research on Confucian temples was conducted throughout the country by the provinces. As a specific result of this research program, an annual periodical called Korea's Traditional Architecture was published from 1976. In 2000, the first book of a series on Confucian Structures (Confucian Temples and Schools in Seoul and Gyeonggi-do) was published, followed in 2001 by the second book of the series (Confucian Temples and Schools in Gangwon-do). The third and fourth books on the Confucian Temples and Schools of Gyeongbuk (Confucian Temples and Schools in Gyeongsangbuk-do, Southwest Region/ Confucian Temples and Schools in Gyeongsangbuk-do, Northeast Region) were published in 2002 and 2003, respectively. The fifth book of the series, published in 2004, contains survey data from the Gyeongnam area (Confucian Temples and Schools in Gyeongsangnam-do).
Private Housing Survey
All traditional private housing throughout the country was considered as a research subject: thus, to research the development of Korea's traditional private houses, which are rapidly disappearing as a result of the country's modernization, the floor plans, location characteristics, construction techniques, and differing regional lifestyles were compared. From 1971, surveys were conducted based on annual plans and, with the publication of results, it has proved to be an important project that has assisted and informed decision-making with regard to cultural asset designation, as well as revealing the evolution of floor plan design in different regions. In 1994, the Report on Private Houses (Jeonnam and Jeonbuk Edition) was published.
Stone Structures Research Study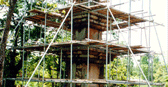 Erection of scaffolding for precise measurement of stone pagoda
This study encompassed stone structures of all types including stone pagodas, Stupa, Grotto, Stone Ice Storage, stone bridges, and stone castles, although it concentrated on state-designated stone pagodas. The research in Jeollanam-do and Jeollabuk-do has been completed, while that in Gyeongbuk is ongoing, again with the focus on stone pagodas.
Precise Measurement Survey of Stone Pagodas
The surveyed stone cultural assets include stone pagodas, Brick Pagoda, stone brick pagodas, stone bridges, Flagpole Support, and Grotto, all of which are categorized as stone buildings. There are about 1,800 stone cultural assets in total, including province-designated cultural assets; however, when the scope of the study is limited to include only state-designated cultural properties, there are 540 National Treasures and Treasures (72 National Treasures, 468 Treasures). Among these, there are 233 stone structural cultural assets (34 National Treasures, 199 Treasures) and 187 stone pagodas. During this survey, floor plans of the pagodas were drawn up using accurate measurements; photographs and rubbings were taken; maintenance status reports were prepared; and investigations of then related historical records were carried out. On the basis of the gathered data thus accumulated, analyses of structural patterns and techniques can be provided for academic reference.
Since 1977, research studies on stone pagodas have been conducted every year, while since 2004, the preservation of records on stone cultural assets has been prioritized and surveys of state-designated stone pagodas in Jeollabuk-do (2004) and Jeollanam-do (2005-2006) have been completed. Since 2007, surveys of the stone pagodas in Gyeongsangbuk-do have been under way.
Study of Traditional House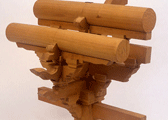 Traditional building structure construction techniques
This study focuses on the development process of traditional Korean houses across the country by comparing with the site plans, floor plans, structural techniques and customs of each region. The study has been in progress according to annual plans since 1971, and the reports are published for designating cultural properties and understanding the development of designs by region. A study report on traditional houses (Jeollanam-do and Jeollabuk-do) was published In 1994.

We published the Architectural Records Produced from Dismantling Projects based on the reports on the relevant repair works as a result of efforts made since 2010. We are carrying out research on specific architectural skills based on the said collection.
Study of Traditional Architectural Technique
The purpose of this study is to preserve traditional techniques, such as "structuring", "wood working" and "trimming members" by compiling detailed records when traditional buildings are dismantled for repair. Reports are published according to the studied results, while model brackets and wooden structure are manufactured to be used in academic studies, exhibitions and educational materials. The study subjects include architectural styles, including "structuring", "wood working" and "building" methods. Rubbings and photos are taken as records. Models are the made based on the findings.Since 1991, a total of 36 models of historical wooden buildings have been made during restoration projects. In the future, Chinese and Japanese wooden buildings will be included for comparative studies.
Survey of Architectural Heritage in North Korea
The National Research Institute of Cultural Heritage is documenting Buddhist temples located in North Korea, using various methods including photography and measurement of their dimensions. The goal of the project is to fill any chronological or geographical gaps that may exist in the current body of primary sources for architectural heritage research.
Survey of temples
By extending the scope of our survey of architectural heritage to North Korea, the National Research Institute of Cultural Heritage is providing source materials needed for more comprehensive research in this field. As with the architectural heritage located in South Korea, North Korean buildings are carefully examined to determine their plan, layout and construction method and are evaluated in their stylistic details. High resolution photographs are taken to accurately capture their appearance, and related records are researched. The objective is to provide the academic community with more complete primary sources on the history of Korean architecture by complementing the existing body of information with information on North Korea-based resources. Under this project, begun in 2004, a survey of fifteen Buddhist temples designated as treasures by the North Korean government was completed in 2006.
Research Results
| | |
| --- | --- |
| 1994 | Report on Private Houses |
| 1992-95 | Books I, II, and III on miniaturized floor plans of National Treasures and Treasures |
| 1973-2003 | Korea's Traditional Architecture, Editions 1-25 |
| 2000 | Local Confucian School in Seoul and Gyeonggi-do |
| 2001 | Architecture of Confucian Temples in Gangwon-do |
| 2002 | Architecture of Confucian Temples in Gyeongsangbuk-do (Southwest edition) |
| 2003 | Architecture of Confucian Temples in Gyeongsangbuk-do (Northeast edition) |
| 2004 | Stone Pagodas of Jeollabuk-do |
| 2004 | Architecture of Dongmyo (Royal Shrine) |
| 2005 | Stone Pagodas of Jeollanam-do, I |
| 2005 | Korean Architecture and Archeological Data in the Possession of the Universityof Tokyo |
| 2006 | Stone Pagodas of Jeollanam-do, II and III |
| 2007 | Traditional Architecture of North Korea, 1, 2 |
| 2007 | Collection of Excavation Survey Data of Architectural Ruins – Temples I and II |
| 2007 | Ancient Architecture of Shanxi Fortress, China – Data |
| 2007 | Stone Pagodas of Gyeongsangbuk-do, I |
| 2008 | Traditional Architectures in North Korea, 3 |
| 2008 | Collection of Excavation Research Data of Architectural Ruins – Temples III |
| 2008 | Report on the Severity of Fire Damage at and the Management of Sungnyemun Gate |
| 2008 | Data Collection concerning the Restoration ofSungnyemun Gate |
| 2008 | Stone Pagodas of Gyeongsangbuk-do, II |
| 2009 | Stone Pagodas of Gyeongsangbuk-do, III |
| 2010 | Stone Pagodas of Gyeongsangbuk-do, IV |
| 2010 | A Collection of Materials Found as a result of Excavation Survey of Architectural Relics – Ancient Palaces I |
| 2010 | A Collection of Materials Found as a result of Disassembly and Repair of Architectural Relics – Temple buildings |
| 2010 | A Collection of Materials Found as a result of Excavation Survey of Architectural Relics – Ancient Palaces II |
| 2011 | Stone Pagodas of Gyeongsangbuk-do, V |
| 2011 | A Collection of Materials Found as a result of Disassembly and Repair of Architectural Relics – Palaces, Government Offices, Tombs, etc |
| 2012 | A Collection of Materials Found as a result of Disassembly and Repair of Architectural Relics – Stone Pagodas |
| 2012 | Stone Pagodas of Gyeongsangbuk-do, VI |
| 2012 | Groundwork for Ancient Buildings in Korea |
| 2013 | Sarira Reliquary of Stone Pagoda of Mireuksa Temple Site |
| 2013 | The Stylobate of Korean Ancient Architecture II |
| 2013 | Stone Pagodas of Gyeongsangbuk-do VII |
| 2013 | Ancient Architectures in Hebei and Liaoning, China |