Mission & Goals
"The National Research Institute of Culture Heritage (NRICH) aims to serve as a leading light for all those engaged in research on cultural heritage."
Cultural heritage items that have formed naturally or artificially over many years are valuable properties not only for the people of their country of origin but for all humankind due to their historic, artistic, and academic value, and their natural beauty in the case of landscapes. As such, it is every country's duty to survey and study them and to preserve them for future generations.
Missions
We have assumed the responsibility of enhancing the value of the country's culture based on knowledge creation and the use of cultural heritages.
Knowledge creation
We aim to discover the inherent value of the nation's cultural heritage through scientific survey and research, thereby lending it new significance.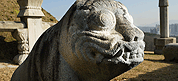 Use of cultural heritage
We use research results in the preservation of cultural heritages and provide diverse and useful cultural heritage contents to the public.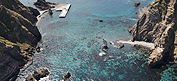 Enhancement of value
We contribute to enhancing the sense of national pride and establishing a renewed national identity through cultural heritage by helping the public recognize the significance and value of our nation's cultural heritage.
Goals
We aim to become a world-class cultural heritage research institution.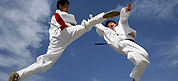 As a global hub of knowledge
Establishment of a cultural heritage-related knowledge network that will further systematize cultural heritage-related knowledge and information, create new knowledge and information, and maximize their use.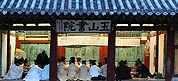 As an institution that carries out activities proactively
We are committed to making new changes as a future-oriented, proactive body.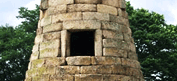 As a state-run research institution
we are dedicated to strengthening the capabilities of cultural heritage researchers and organizational competitiveness.
Our mid-to-long-term Objective
Cultural Heriage Tink Tank
Cultural Heritage Global Leader
Cultural Heritage R&Center
Detailed Objectives
A central institution in the field of cultural heritage research and the exchange of information

Conducting basic research with integrity
Laying the basis for relevant knowledge based on the results of research and the exchange of information
A world-class cultural heritage-related research institution

Research on cultural heritage convergence
Research on cultural heritage preservation
A leading research institution in cultural heritage-related policies

A system of virtuous cycle in research-related policies
A study of ways of contributing to relevant policies
Cultural heritage research and exchanges

Joint research on the use of networks both in and out of the country
Enhancement of international cooperation in step with cultural trends
A creative research institution

Performance-oriented R&D
A body which promotes effective communication between members